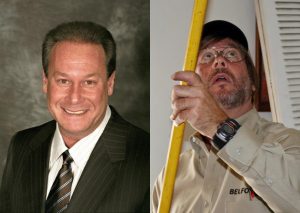 Belfour Holdings CEO Sheldon Yellen was recently interviewed regarding his experience on the show Undercover Boss. Yellen worked alongside low-level workers removing soot, hanging dry wall and crawling underneath homes.
Mr. Yellen recognized that working in the trenches helped him to better understand his company's needs and the importance of getting unadulterated feedback from his workforce.
We have previously written about how Undercover Boss has raised the profile of undercover investigations by showing a large audience the impact of real-time field intelligence on management practices.
When asked if other CEO's could have the same experience within their organizations but without a camera crew, Mr. Yellen replied, "The Undercover Boss experience, regardless of whether you're doing it on TV or in real life, it is an incredible opportunity for a leader to go back to what really counts and that's getting as close to your people as you really can".
We agree 100%. Our owners have spent decades managing undercover cases and know how to get to the bottom of any workplace issue. If you feel that your business could benefit from a candid, unfiltered view of what is going on your workplace, we strongly recommend you contact an experienced and competent private investigation firm.
[via Inc.]